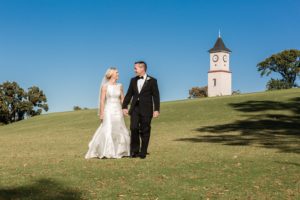 When planning a wedding, many begin by choosing where they'd like their big day to take place. There are a variety of stunning venues to choose from in Oklahoma, and one of the best ways to narrow the search is to consider a few key points before deciding which place to book.
One of the first factors to consider is the type of settings available to you. Some of the venues in the state sit in open countryside, others overlook expansive lakes, some are situated on top of hills and several are nestled in the city.
It's also important for a couple to think about the option of having an indoor or outdoor wedding. Some venues only offer indoor spaces and others only offer outdoor spaces, while many offer both. If planning an outdoor wedding, couples often decide to only tour venues that have an indoor area as backup in case weather doesn't cooperate.
Outdoor weddings are often more flexible for capacity while indoor weddings can be limited for space. By planning ahead and having a headcount in mind, couples can research the capacity for their potential venues to further narrow down their choices.
Other perks of certain venues are the items and services included in the rental amount. Some of the possible items may include chairs, tables and even linens in a few select colors. Venues may also provide a wedding planner, parking attendants and full cleaning service.
A key service to consider is catering. While many venues offer the freedom of bringing a caterer of the couple's choice, others require that their caterers be utilized. This can be either a pro or con depending on the couple – for those without a specific caterer, this option can cut costs; for those with a specific caterer, it may narrow your venue options.
Decorations are another important component to think about. Many spaces are blank canvases that encourage the couple to decorate as they please, while others have set rules about decorations, such as only using artificial flowers and electric candles. A few venues are already so beautifully appointed that couples only need to bring a few decorative items to add personal touches. The choice is yours.
Happy planning!