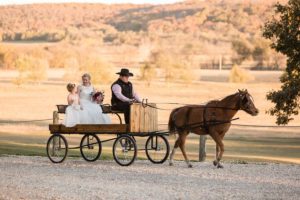 Weddings can elicit every emotion, from elation and bliss to terror and dread. If you're the bride, the groom or a friend holding an invitation, there seems to be an endless list of etiquette rules just waiting to be broken and faux pas to be committed.
Take a deep breath as we turn to the professionals for a guide on what and what not to do at a nuptial celebration.
Since it is likely everyone will attend far more weddings than they'll take part in, let's start with etiquette for guests. From the time you receive an invitation, there are several points of etiquette to keep in mind. Reply promptly, but before you send your response, be sure to fully understand who is invited. Guests and children should only be included if expressly mentioned on the invitation.
"If 'and guest' is not listed on your invitation, that means the couple has only invited you – and no, it is not OK to ask them if you can bring a date," says Camden Chitwood, owner of Emerson Events in Oklahoma City.
Once it's been determined exactly who can attend and the couple has been informed, it's now time to decide what to wear. There are several markers you can use to help you decide this important aspect of a wedding. Pay attention to the time of the wedding as well as the style of the invitation.
"A formal invitation to an evening wedding indicates that you'll definitely dress up," states Emily Post's Etiquette, 18th edition, a definitive guide to American etiquette. "An informal invitation to a noon wedding tells you the affair is either informal or casual."
While men can almost never go wrong with a dark suit, according to Emily Post's Etiquette, women's appropriate attire can be more confusing. Talmadge Powell, founder and principal of TPCStudios, an event planning and branding company in Tulsa, has four rules to help: white outfits are off limits; always be respectful to religious affiliations; black clothing is fine; and it's always better to be overdressed than underdressed.
Chitwood mentions paying close attention to the location of the wedding. A wedding in a barn is sure to be more casual, while many country clubs, a common setting for weddings, have dress codes. Feel free to call the country club directly to inquire rather than calling the bride or groom, she suggests. Also, women should consider footwear carefully.
"If the wedding is outdoors, you might re-think wearing stilettos and stick with wedges or flats," Chitwood says.
It's possible for members of the bridal party to break etiquette, too. It is important to have budget conversations early in the planning process. In the past, the bride's family was expected to pay, but that trend has changed dramatically over the years. Both families can contribute, or the couple can pay for the wedding partially or entirely themselves. In fact, "[Today] more couples pay for the majority of the wedding themselves," Powell says. The important thing is establishing what the arrangement will be before any planning is done. Emily Post's Etiquette advises that "[a]ny conversation about money should be respectful and candid."
Speaking of being respectful, planning a manageable budget is also one recommendation Powell has for helping to avoid a "bridezilla" or "groomzilla" situation – or when expectations for a wedding get completely out of control. Unfortunately, the stresses of planning a wedding can cause good people to act negatively, but there are ways to help avoid this. Powell also recommends that the bride and groom "remember it's OK to ask for help; relax and try to listen and appreciate the people helping you; expect the unexpected and embrace [all] possibilities."
So whether weddings bring you dread or excitement, Emily Post's Etiquette sums up the special event nicely: Everyone in attendance gets to "witness the formation of a new family and to celebrate that union joyously, graciously, and with the utmost consideration for others."