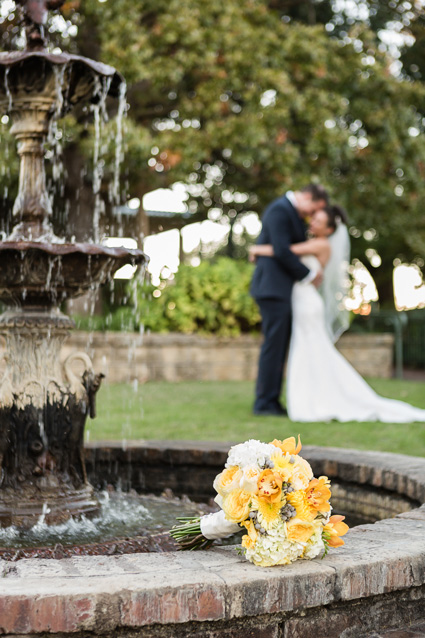 [dropcap]When[/dropcap] planning the biggest – and likely the most expensive – day of your life, you can't afford to miss any information. Since the wedding venue is the biggest piece of the puzzle, we've asked three area wedding and event planners to weigh in on what questions need to be asked to make sure you know exactly what you're getting.
Talmadge Powell of Talmadge Powell Creative, Joe Mathis of J.A. Mathis and Lynn Wheatley of Lasting Impressions have a combined 57 years' worth of experience in the wedding industry. When it comes to finding the perfect venue, they are the experts.
"I think one of the most important things is to make sure the venue represents the couple," says Mathis. "It's really an extension of their home and their family style."
Mathis advises taking pictures of the venues you visit so you will be better able to remember what you liked and didn't like about the venue.
It's okay to visit the venue multiple times to make sure you haven't changed your mind, he adds. Be sure to visit the venue during the same time of year you plan to get married. Some venues may look drastically different in various weather situations.
Powell emphasizes considering the space offered by each venue.
"A venue that is too big or too small can make or break an event," he says.
Instead of trying to mentally picture exactly what your space will look like on your big day, feel free to take measurements.
While you're planning the layout of your venue, be sure to leave room for the bouquet toss, cake cutting and a space for gifts. Additionally, Powell advises checking out the "backstage" space: Is there enough room in the dressing rooms, kitchen, bathrooms and parking areas?
Much like Powell, Wheatley is most concerned with the space of the venue.
"While it's a bummer to think about bad things while planning your wedding, it's important to consider fire codes. The number of people allowed in a space, who is in charge, where guests should safely exit … as a host, you ultimately bear the responsibility."
Of course, those aren't the only things to consider when viewing a potential venue. Mathis advises to look at non-traditional venues.
"Hotels and churches have long been a popular venue," he says, "[but] in recent years, wedding-specific venues have popped up."
Instead of limiting your scope to the traditional venues, it may be worthwhile to look into museums, parks, homes and historic buildings to make sure your venue really reflects your style. Whatever you choose, be sure to ask if the venue can accommodate the rest of your wedding needs. Some venues may require you to use in-house vendors or may not be child-friendly.
Once you find a venue you love that is available on the day you want, half the battle is won. The other half is considering what else may impact your wedding: how many other events the venue may have that day, if any other weddings are occurring in the area or if the area is scheduled for construction.
"It's important to check local area events," Powell says. "Local runs, sporting events, downtown concerts, festivals and sporting schedules can all potentially impact your event."
Finally, it's important to consider the cost.
"Typically, venue costs should not exceed eight-10 percent of your overall budget," says Wheatley. "If you plan far enough ahead, you should have plenty of options for venues."
Instead of waiting to be surprised with the total of your bill just days before the wedding, ask the venue for a written proposal while you're still searching for the right space. Be sure to ask them to go over any hidden fees and costs; insurance, recycling, cake-cutting and last-minute changes for an outside wedding are common ways  to acquire extra fees.
The one thing all of our wedding planners agree on? Hiring a planner to help you navigate, negotiating all of the details for your big day. After all, it makes it easier to choose a venue if you aren't trying to remember all of the little things and can focus on the overall image instead.